Home About Us News JSM 2020 Competitions Join Us
Paper Competition Winners
See the Session Program for abstracts and schedule.
The Winner will be announced after the Session. The Finalists for the award are:
Richard Feder-Staehle (Cal Tech) – Multiband Probabilistic Cataloging: A Joint Fitting Approach to Point Source Detection and Deblending
Matthew Ho (Carnegie Mellon) – A Robust and Efficient Deep Learning Method for Dynamical Mass Measurements of Galaxy Clusters
Oliver Philcox (Princeton) – Inferring Galactic Parameters from Chemical Abundances: A Multi-Star Approach
Collin Poitisch (Carnegie Mellon) – Trend Filtering: A Modern Statistical Tool for Time-Domain Astronomy and Astronomical Spectroscopy
Josh Speagle (Harvard) – Photometric Biases in Modern Surveys
JSM 2019 Student Paper Competition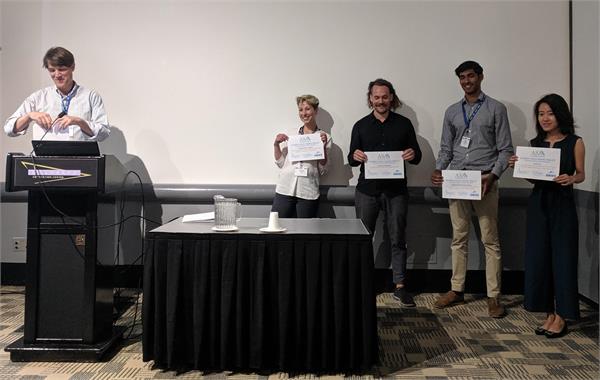 The finalists await Prof. Chad Schafer to reveal the winner of the student paper competition at JSM 2019 in Denver, CO.
See the Session Program for abstracts and more information.